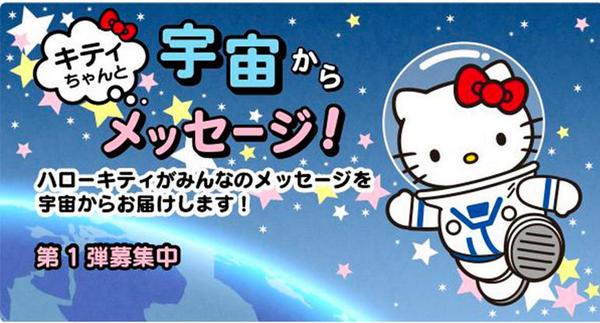 August 16, 2014- S. Barton
Hello Kitty has gone where very few toys have gone before:To Outer Space! In celebration of the beloved character's 40th Anniversary, her creators from Sanrio Co.,LTD, have sent her out of the world.
On June 19 2014 ,a 1.6-inch (4 centimeters) Hello Kitty figure rode aboard the nano-satellite, Hodoyoshi 3, launched from Russia. She's riding in a compartment 28 inches tall (70 cm), and 20 inches wide and deep, which is also equipped with a digital display to show messages from Earth.
As part of the celebration, Hello Kitty will be taking your messages and reading them from space. From August 12 to  August 25, fans can send messages to Hello Kitty, in Japanese or English. However, only 10 messages will be chosen. Does your message have "the right stuff?" There's still time to enter at Sanrio's Official Website.
[The winning messages will be announced daily from 8/26/2014- 9/8/2014.]
via NBCNews.
Fun Facts:
Hello Kitty isn't the first toy to have graced the starry skies, her predecessor's include: Disney's Buzz Lightyear, and LEGO's. Want to learn more? Then check out Space.com's photo gallery, Cosmic Playtime:Toys in Space. 
For our cat-lovers: The first "Astro-Cat", was Félicette from France, she was launched on October 18, 1963, aboard Veronique AGI rocket, No. 47.